Reading Time:
3
minutes
Kendrick Lamar's Rap Poetry

 Since day one, since the first time I touched the pen, I wanted to be the best at what I do. – Kendrick Lamar
From writing grade school poetry in Compton, CA to topping rap charts around the world, Kendrick Lamar's talent only ever grows. His knack for shining a light on the most uncomfortable truths with ease has rightfully earned him a spot among the greats.
Kendrick's undeniable talent has also earned him 16 Grammys, nine BET Awards, three American Music Awards and one Pulitzer Prize…Yes, that Pulitzer Prize award. By winning the 2018 Pulitzer Prize in Music, DAMN. became the first album to win that wasn't jazz or classical. If those accolades aren't enough evidence of his brilliance, don't worry. One listen through this collection will make you a believer in no time.
Hip-hop lovers know that when Kendrick's name is on a track, you listen with an open mind and keen ear. Whether a feature or one of his own songs, every verse is designed with care, intention, and fearlessness. Each of his eight albums have their own distinct messages. But his favorite subjects to cover are the topics he knows all too well— Hollywood's exploitation of Black people and the Black culture, the downside to fame and the artful balance of growing while honoring your roots.
Is rap poetry? 
This decades-old debate surely won't be solved any time soon. But Kendrick Lamar's skillful pen makes for one of the best cases we've ever seen for a definitive 'yes'. His words never fail to bring literary giants to their knees and give rap's heavy-hitters a run for their money. Carefully-constructed metaphors grace every line, blurring the boundary between rap and poetry. The sting of the storytelling tactics and brutal visuals Kendrick Lamar has mastered evoke the most raw emotions in his audiences, whether his lyrics are read or heard. He writes in a way that makes every syllable feel like a sucker punch, jolting you from your own life into the reality he always knew. A reality that may feel uncomfortably real to those foreign to the streets Lamar, and so many of his fans, call home.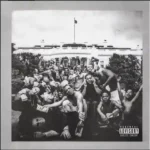 "And I'm not sure why I'm infatuated with death
My imagination is surely an aggravation of threats That can come about, 'cause the tongue is mighty powerful And I can name a list of your favorites that probably vouch Maybe 'cause I'm a dreamer and sleep is the cousin of death Really stuck in the schema of wondering when I'mma rest"
-From "Sing About Me, I'm Dying of Thirst" on good kid, m.A.A.d city
To Pimp A Butterfly is arguably Lamar's most loved album and for good reason. Most of the songs have a repeated refrain to tie them all together until the full poem is performed on the final track. 
"I remember you was conflicted, misusing your influence. Sometimes I did the same," 
Each time this line is repeated, it slowly reveals the poem line by line. 
"I remember you was conflicted
Misusing your influence
Sometimes I did the same
Abusing my power, full of resentment
Resentment that turned into a deep depression
"
Building, absorbing, breathing. 
Then finally, living. 
"Mortal Man", the final track on TPAB, is a poem discussing the pressure of greatness Black people face while the odds are nearly always stacked against them. Partially inspired by a trip Lamar took to South Africa to see where Nelson Mandela was incarcerated, the rapper tips his cap to the great Black men before him while also having a daunting realization– he's next in line to carry the torch. "Mortal Man" closes with a bang as Lamar imagines an interview between himself and his idol, the late Tupac Shakur. With soundbites from a 1994 interview pieced together, Kendrick Lamar is able to get the answers that the young kid from Compton within him always longed for. 
There are endless takeaways and lessons scattered throughout each of Lamar's albums. But one is repeated time and time again. It is that the weight of "great", though unbearable at times, isn't impossible to carry. Kendrick Lamar proves in real time that Black men and women everywhere are free to know they are justified in their pursuit of greatness and free to define what success looks like for themselves.
At second look, the question is less, "Is rap poetry?" and more "Is Kendrick Lamar's Rap Poetry?". And it's pretty clear Kendrick Lamar is a poet!
If you loved this article and want to receive more updates then become part of our #lisquad at little infinite. Sign up here!