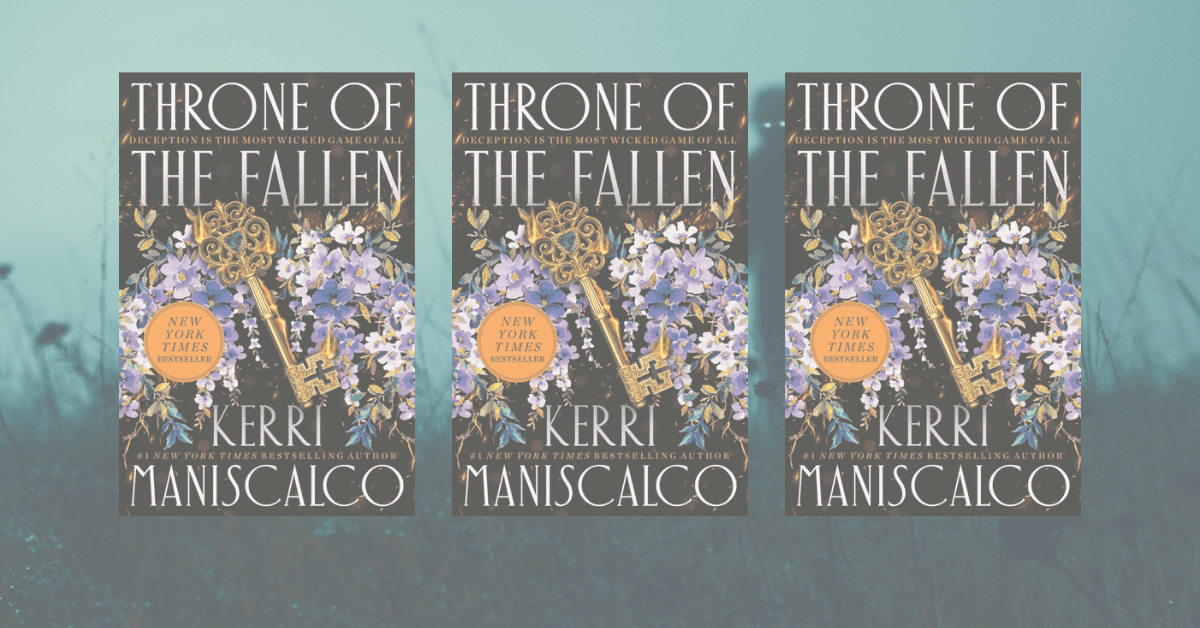 Reading Time:
3
minutes
A Review of Throne of the Fallen by Kerri Maniscalco
Step into the Darkly Enchanting Kingdom of the Wicked Universe
In a world of demons, sin, and treacherous games, the Prince of Envy receives a cryptic note that thrusts him into a deadly challenge. With his demon court in peril, he's prepared to embrace his sinful nature to emerge victorious. But the arrival of a frustrating artist, who ignites his passions like no other, disrupts his meticulous plans.
Camilla Antonius faces the harsh truth about scoundrels and rogues when she becomes entangled with Waverly Green's notorious rake. Blackmailed and desperate to avoid scandal, Camilla strikes a diabolical deal with Envy. Little does she know that this arrangement will awaken her true self.
Their journey takes them through the Underworld, from opulent demon courts to the seductive vampire realm and beyond. While navigating perilous challenges, Envy and Camilla strive to avoid the most treacherous trap of all – falling in love.
Here are my thoughts:
I was drawn into the intriguing world of "Throne of the Fallen" from the very first page. The novel seamlessly weaves together elements of fantasy, romance, and suspense to create a captivating story that kept me hooked until the very end.
The characters are richly developed, each with their own unique flaws and virtues. The Prince of Envy himself is a complex figure and watching him grapple with his own demons and desires added depth to the narrative. Camilla Antonius, on the other hand, is a delightful protagonist, and her journey from innocence to self-discovery is beautifully portrayed.
The plot is a thrilling blend of mystery and romance, with cryptic notes, deadly games, and a touch of the supernatural. Kerri Maniscalco's descriptive writing brings the various realms of the Underworld to life, from the glittering demon courts to the sultry vampire realm, making each setting feel vivid and immersive.
The Results Are In…
Overall, my review of Throne of the Fallen is a beautifully crafted tale of love, sin, and self-acceptance. It's a must-read for those who enjoy romance with a touch of the supernatural and a good dose of mystery!
Find a copy of this Vampire, Fantasy Romance from your favorite retailer.
More Reviews of Throne of the Fallen:
"If you're looking for an adult fantasy romance with a bit of suspense/mystery I would definitely recommend Throne of the Fallen." – Readaholic Book Reviews
"Delving into this story feels like reading a riddle. You start off confident that you know every twist and turn the book is going to take, but then you keep trying to solve it and come up empty. Every time I thought I got closer to figuring out what each character's moves would be, I would be surprised and keep reading to find out more. This is going to be a book that you don't want to put down until the very end." – Nathalie DeFelice of The Nerd Daily
"You all need to read this book – it had the one bed trope, slow burn, enemies to lovers, Fae, Vampires, Demons….What more could you want!" – Steph @bookslovereaders
"I loved, loved, loved the characters…I really enjoyed the romance." – @listenwithbritt
About the Author – Kerri Maniscalco
Kerri Maniscalco's fascination with gothic settings began during her childhood in a semi-haunted house outside New York City. When she's not writing, she immerses herself in others books. It's a profession and a hobby for her. Kerri also enjoys cooking a variety of dishes with her family and friends. When alone, she enjoys numerous cups of tea and deep discussions with her cats about profound topics.
She is a renowned author, boasting the distinction of being a #1 New York Times and USA Today bestselling author. Her notable works include Stalking Jack the Ripper, and the Kingdom of the Wicked trilogy.
Want more reviews like Throne of the Fallen by Kerri Maniscalco? Get the best love and romance novel recommendations, handpicked by our experienced editor, straight to your inbox each week. Sign up for little infinite's Romance Newsletter, here.