Reading Time:
3
minutes
Sylvia Plath's final poetry collection has been restored to the original selection and arrangement.
The re-release of Ariel included a searingly honest forward by Plath's daughter, Frieda Hughes, and even after devouring the book we were hungry for more. To satiate that appetite, we recommend these seven books.
Description: A major literary event–the complete, uncensored journals of Sylvia Plath, published in their entirety for the first time.
Sylvia Plath's journals were originally published in 1982 in a heavily abridged version authorized by Plath's husband, Ted Hughes. This new edition is an exact and complete transcription of the diaries Plath kept during the last twelve years of her life. Sixty percent of the book is material that has never before been made public, more fully revealing the intensity of the poet's personal and literary struggles, and providing fresh insight into both her frequent desperation and the bravery with which she faced down her demons. The Unabridged Journals of Sylvia Plath is essential reading for all who have been moved and fascinated by Plath's life and work.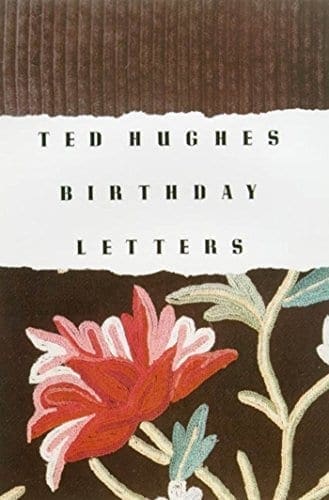 Description: Formerly Poet Laureate to Queen Elizabeth II, the late Ted Hughes (1930-98) is recognized as one of the few contemporary poets whose work has mythic scope and power. And few episodes in postwar literature have the legendary stature of Hughes's romance with, and marriage to, the great American poet Sylvia Plath.
The poems in Birthday Letters are addressed (with just two exceptions) to Plath, and were written over a period of more than twenty-five years, the first a few years after her suicide in 1963. Some are love letters, others haunted recollections and ruminations. In them, Hughes recalls his and Plath's time together, drawing on the powerful imagery of his work–animal, vegetable, mythological–as well as on Plath's famous verse.
Countless books have discussed the subject of this intense relationship from a necessary distance, but this volume–at last–offers us Hughes's own account. Moreover, it is a truly remarkable collection of pems in its own right.
Description:This selection, which is drawn from Anne Sexton's ten published volumes of poems as well as from representative early and last work, is an ideal introduction to a great American poet.
Description: In her seventh volume of poetry, Adrienne Rich searches to reclaim―to discover―what has been forgotten, lost, or unexplored. "I came to explore the wreck. / The words are purposes. / The words are maps. / I came to see the damage that was done / and the treasures that prevail." These provocative poems move with the power of Rich's distinctive voice.
Description: Important poems by the late New York poet published in The New American Poetry, Evergreen Review, Floating Bear and stranger places.
Often this poet, strolling through the noisy splintered glare of a Manhattan noon, has paused at a sample Olivetti to type up thirty or forty lines of ruminations, or pondering more deeply has withdrawn to a darkened ware- or firehouse to limn his computed misunderstandings of the eternal questions of life, coexistence, and depth, while never forgetting to eat lunch, his favorite meal.

Description:This collection of stunningly beautiful poems encompasses the natural, human, and spiritual realms, and is bound together by the universal themes of time and mortality. With clarity and sureness of craft, Gluck's poetry questions, explores, and finally celebrates the ordeal of being alive.
Description: Selected Poems is the classic volume by the distinguished and celebrated poet, Gwendolyn Brooks, winner of the 1950 Pulitzer Prize, and recipient of the National Book Foundation Medal for Distinguished Contribution to American Letters. This compelling collection showcases Brooks' technical mastery, her warm humanity, and her compassionate and illuminating response to a complex world.
To stay up-to-date, make sure to keep an eye out for more of little infinite's featured content as we celebrate poetry, books, and this beautiful hot mess we call life on Instagram and Twitter.
Shop This Article: